Portland Company Prepares for Prominence as Industry Leader in Premium Cannabis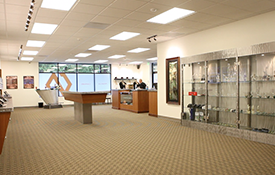 Portland, Ore. – The Portland-based company, Shango™–, today announced it is officially open for business with two medical marijuana dispensaries in the city and that Shango's line of premium cannabis products is now available to all medical marijuana card holders.
"With over 20 years of experience and expertise in the industry, we are pleased to unveil Shango, a new line of premium cannabis products, and formally announce that our first two medical marijuana dispensaries are open for business," said Michael Woodburn, Vice President of Sales, Shango. "We are honored to join the business community in Portland. This is an exciting day in our company's history. We're ready for people to come through our doors and learn about Shango and our products, as well as the safe and responsible use of cannabis products."
Shango's premier flagship location is near the Portland International Airport at 6033 Northeast Win Sivers Drive. A second Shango, located near the corner of 82nd Street and Foster Road, opened in late September.
"It is a dream come true to announce this company and officially open our doors," said Brandon Rexroad, co-founder and Executive Vice President of Operations for Shango. "We think the years of planning that went into Shango is appreciated, because people are taken aback by its beauty and our operation as a whole.  We are thrilled to be here today and that our vision to set a new level of excellence in this industry is accepted."
Shango's medicinal retail dispensaries carry identical bronze and platinum color schemes and a stylish, state-of-the-art interior design. Samples of Shango's meticulously cultivated and refined premium Shango flower products are on display in glass canisters, while the actual products are presented in pre-packaged containers upon purchase. Shango has four categories of top quality and hard-to-find strains including Landrace, Sativa, Indica and Hybrids. With over 25 individual strains, Shango presents a range of options to meet the vast and varying needs of cardholders.
"We opened the first Shango softly so we could gather feedback from the community and make improvements before today's grand opening," said Shane McKee, co-founder and Executive Vice President of Product Development. "We didn't know what to expect that day, but we were pleased with the results. Our visitors were amazed with the presentation and products, and especially our display and pre-packaging system. We wanted to look and feel different, and put Shango in its own category, and I believe we have done that."
Call-ahead ordering and concierge-style customer service makes a visit to Shango easy, enjoyable and efficient.
Shango is pleased to offer a full range of premium cannabis products, including flower, concentrates and cannabis-infused specialties. All of Shango's products are carefully cultivated, processed and packaged to ensure utmost quality. The Shango Private Reserve collection, available only at Shango stores, delivers incomparable cannabis and represents the ultimate state of the grower's art.
Through its superior product line, polished and professional store presence and streamlined process, Shango strives not only to become the premium cannabis of choice, but also to set a new benchmark of excellence for the entire industry.
Continued Woodburn, "As a company, Brandon, Shane and I have been working on the launch of Shango for almost two years. We have carefully developed a cultivation process to achieve the utmost levels of consistency and quality for our range of cannabis products. Significant thought went into structuring Shango's clean, comfortable and unique retail environment that is welcoming to both an experienced medicinal cannabis cardholder and a first time buyer. We are deeply invested in our belief that Shango can become the industry's premium cannabis brand leader."
Both Shango locations are open from 10:00 a.m. – 7:00 p.m. Mondays through Saturday and from 11:00 a.m. – 6:00 p.m. on Sundays (Pacific Time).
For more information about Shango, please visit HYPERLINK "http://www.goshango.com" www.goshango.com, Follow us on Instagram and Twitter @ShangoCannabis and LIKE us on HYPERLINK "https://www.facebook.com/pages/Shango-Cannabis/339954596177564" Facebook.com/Shango-Cannabis.
About Shango:
Based in Portland, Oregon, Shango is a premium cannabis brand offering a full range of award-winning cannabis products including flowers, concentrates and cannabis-infused specialties. Prepared for prominence as an industry leader in premium cannabis, Shango upholds the highest possible levels of product quality and consistency, and business practices and cannabis industry standards. Shango is a committed advocate for education on the safe and responsible use of cannabis products.
###
Press Contact:
Virginia Martino
press@goshango.com
702.257.2345