In its recent 100-page Special Edition, Weed 2016, the editors and journalists of Newsweek interviewed business, government, legal and Cannabis Industry experts to assess the current state of America's "Pot Revolution," its impact on our society and economy, and what might happen next.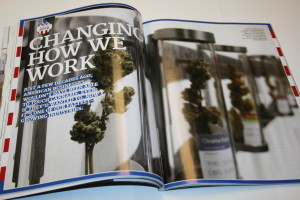 Newsweek acknowledged that "weed" in the U.S. has emerged from the shadows of black market counterculture and transformed itself into a legitimate presence in themainstream consumer marketplace as one of America's fastest growing industries. The recreational marijuana Industry.
The section entitled, Changing How We Work, begins with a two-page photo spread that features the interior of Shango's flagship Win Sivers store in Portland, Oregon. The photo shows a portion of the store's product wall with examples of Shango's premium quality flower on display in our custom-built sconces.
We are pleased and proud that Newsweek chose to highlight Shango in this important and comprehensive Special Edition.