As Measure 91 Goes into Effect, Shango Opens its Third Location in Less than a Year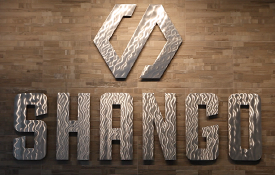 (Portland, Ore.) – Brandon Rexroad and Shane McKee, owners of the Portland-based Shango™P medical marijuana dispensaries, today announced a new Shango location will be opening doors in the city of Hillsboro Wednesday, July 1st. This will mark the third Shango retail store to open in less than a year.
Rexroad and McKee partnered with local businessman and life-long Hillsboro resident Adrian Perte to bring a Shango retail store to the area. The dispensary will be located at 1775 SE TV (Tualatin Valley) Highway Building A, Hillsboro, OR 97123, which is the major thoroughfare to Beaverton and Portland.
"As an entrepreneur and as a member of the Hillsboro community, I've never been this excited to start a business," said Perte. "I knew that Shango was the right medical marijuana dispensary for our town after I met with Brandon and Shane. Their cultivation, packaging and retail operations are run like a Fortune 500 company. From top to bottom, Shango is excellence. I'm looking forward to bringing this business to Hillsboro and to providing superb cannabis products for our local medical marijuana cardholders."
In October 2014, Rexroad and McKee successfully launched the first two Shango locations in Portland. Shango's stylish and state-of-the-art design and superior operations received high acclaim from regulators and local officials alike. Cardholders and industry critics praised the quality of Shango's premium cannabis products and accessories, as well as its in-store experience. Since then, they have been in discussions to open additional Shango dispensaries in Oregon, including Hillsboro, as well as out of state expansions to Alaska, California, Nevada and Washington.
"Shane and I are pleased to be partnering with Adrian Perte to open the third Shango in Oregon," said Rexroad. "Not only is he an established business owner, he is also a devoted Hillsboro resident who is passionate about his community. We have no doubt that under Adrian's expertise and experience, this Shango will succeed in meeting cardholders' needs in Hillsboro."
The Shango Hillsboro opening is the same day that Measure 91 goes into effect, allowing Oregonians to grow limited amounts of marijuana on their property and to possess personal limited amounts of recreational marijuana for personal use under Oregon law.
"July 1st will be yet another historic day for our nation and, here at home, for Hillsboro," said McKee. "We're thrilled that Adrian will be the first to open a dispensary in Hillsboro. We're excited for everyone to see that Shango is absolutely the right business to bring to town."
Rexroad and McKee, along with Perte, continue the mission to become the top brand in premium cannabis and serve as the new standard of excellence for the industry. This is especially important as a large sect of Oregonians urge their legislators to implement an early start in allowing medical dispensaries to sell recreational cannabis – up until the OLCC launches its program in Q3 2016.
Shango offers an extensive range of premium cannabis products, including flower, concentrates, TGA Genetics seeds and cannabis-infused specialties. Last month, Shango introduced premium Bud Run Vape cartridges and accessories.
Shango's products are never touched with bare hands. All products are carefully cultivated, processed and packaged to preserve utmost quality. The trademark Private Reserve collection, available only in Shango stores, is an unparalled cannabis product and represents the ultimate state of the grower's art.
A proud member of the Portland Business Alliance, Rexroad, McKee and Perte will join with Alliance representatives, friends, family and colleagues to stage the official ribbon-cutting ceremony, Wednesday July 1 at (10:00 a.m. PST). Doors to the new Hillsboro Shango will open for business to cardholders immediately afterward.
The Shango Hillsboro location is open 10:00 a.m. – 8:00 p.m. Sunday through Thursday and from 10:00 a.m. – 10:00 p.m. Friday and Saturday.
For more information about Shango Hillsboro, please visit HYPERLINK "https://www.goshango.com" www.goshango.com, Follow us on Instagram and Twitter @ShangoHillsboro and Like us on HYPERLINK "https://www.facebook.com/pages/Shango-Cannabis/339954596177564" Facebook.com/ShangoHillsboro.
Adrian Perte and Family – Photo Credit: Shango
About Shango:
Based in Portland, Oregon, Shango is a premium cannabis brand offering a full range of award-winning cannabis products including flowers, concentrates and cannabis-infused specialties. Prepared for prominence as an industry leader in premium cannabis, Shango upholds the utmost levels of product quality and consistency, and business practices and cannabis industry standards. Shango is a member of the Portland Business Alliance and a committed advocate for education on the safe and responsible use of cannabis products.
###
Press Contact:
Virginia Martino
702.257.2345