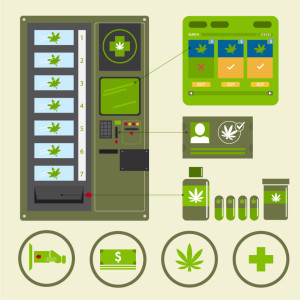 Follow these steps to receive your Portland marijuana medical card, and you could be shopping for high-quality infused products soon.
How to Get a Medical Marijuana Card in Oregon
Obtaining your Portland medical marijuana card should be an easy process as long as you complete the basic steps that are required from each Oregon applicant. Failure to follow the procedures correctly could cause your application to be rejected. If you follow the steps listed below, the process should not only be easy to understand but also go as smoothly as possible. After receiving your card, you could begin shopping at one of the top dispensaries in Portland.
Completing Your Online Application
The medical records release form must be printed out and completed in its entirety before you can proceed to the next step. This form is available for download online from a variety of medical clinics and government websites. Once you have downloaded the form, you will need to turn it over to your physician's medical records department.
You must receive a statement from your doctor, such as a Doctor of Osteopathy or a Medical Doctor. If you do not have a physician, you can find a list of qualified doctors on the Oregon Medical Marijuana Program government website.
Once your physician or approved staff members have completed the medical records release form, you will need to submit it to the Oregon Department of Human Services along with your application and required fees. The review process could take up to 30 days before a decision is made.
Oregon Laws and Fees Pertaining to a Medical Marijuana Card
If you are under the age of 18, your parent or guardian must fill out the Oregon Medical Marijuana Program Declaration of Person Responsible for a Minor Form on your behalf. In addition to this form, your parent must complete Part B of the application form as your primary caregiver. All forms must be notarized before being submitted.
Once you have signed the form in its entirety, you must submit the application to the Department of Human Services in Portland with "Attn: Oregon Medical Marijuana Program." A copy of your driver's license or valid U.S. identification card must accompany your application along with your doctor's statement and the required fees. The application fee is $200. The fee is reduced to $100 if you are a patient on the Oregon Health Plan or if you are receiving food stamp benefits. If you receive Social Security Income benefits, your fee is reduced to $20.
Start Visiting Portland Dispensaries
Once you have received your medical marijuana card in Portland, you can stop by one of the top dispensaries in the area to purchase your favorite concentrates, flowers and infused products. You can find high-quality strains for your medical condition at an affordable price.