MOLALLA, Ore. (KOIN) — The first retail marijuana store opened in Molalla Saturday after months of resistance.
Even Mayor Debbie Rogge initially had reservations but she hopes it will be a bonus for the local economy.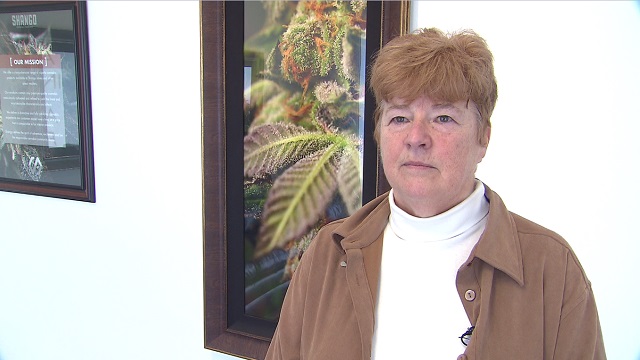 Molalla Mayor Debbie Rogge, Apr. 2, 2016 (KOIN)
"My history is a registered nurse, I nursed for 33 years, and I come from the culture, 'just say no to drugs'," Rogge told KOIN 6 News.
But after doing research and listening to the pleas from the owner of the Shango shop, Rogge and the city council created a special zoning for the store.
"We look forward to getting tax revenue off of the sale, that is part of the reason Molalla agreed to pursue this."
Shango owner Joi Moshburger has pledged to donate money to the fire station. Rogge has also encouraged Shango to donate to the parks department, as there are a lot of projects that need funding.
But for most of the customers on Saturday, they were just thinking about convenience.
"I think it's awesome, terrific," said Caleb Nofzinger. He says before the opening of Shango, he would have to drive 30 minutes to a shop in McLoughlin or worse, get it from the black market.
"It's awesome, in and out you know, you don't have to smoke a bowl with a drug dealer and talk to them when you don't want to talk to them. Now you can come to the store and get it like liquor, it's pretty cool."