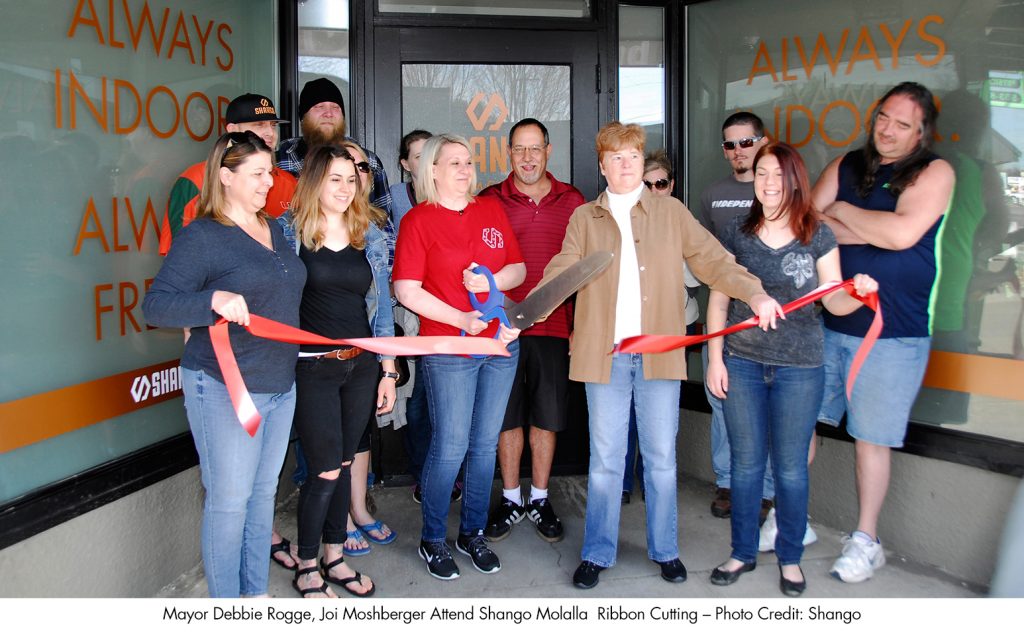 Molalla, OR – With the snap of a red ribbon at precisely 10:00 a.m., Joi Moshberger today became the latest entrepreneur in the business community of Molalla, Oregon. With the Honorable Debbie Rogge, Mayor of Molalla, and Brandon Rexroad, Founder and EVP of Operations of the Portland-based Shango by her side, Moshberger opened Shango's doors and officially began the sale of cannabis products to an extended line of waiting customers.
"I'm happy to announce that Shango Molalla is officially open and is serving the community that I love so much," said Moshberger. "Shango is the forerunner in the cannabis industry. Their retail stores are beautiful, their operations are highly professional, and Shango makes the best products out there. My sincere thanks goes out to Mayor Rogge, Brandon Rexroad and the Molalla community for supporting me in this exciting new venture."
Rexroad partnered with Joi Moshberger to usher in a Shango devoted to the Molalla community. The new Shango is located at 109 W. Main Street, Molalla, OR  97038. This is the second Shango to open since Oregon legalized recreational marijuana in 2015, and the fifth retail store in less than two years for the Portland-based cannabis company.
In August 2014, Rexroad successfully launched the first Shango Harold location in Portland, followed by Shango Win Sivers location in October 2014. Shango's stylish and state-of-the-art design and superior operations received high acclaim from regulators and local officials alike. Customers and industry critics praised the quality of Shango's premium cannabis products and accessories, as well as the in-store experience. Rexroad is now in discussions to open more Shango stores in Oregon as well as in Alaska, California, Nevada and Washington.
"Joi is an amazing person and an ideal partner for Shango, said Rexroad. "She understands our brand and our vision, and more importantly the high level of integrity it takes to be an industry leader in this category. Congratulations, Joi, on your Molalla grand opening and welcome to the Shango family."
With Moshberger as a new partner, Rexroad continues Shango's mission to serve as the number one brand in premium cannabis and the benchmark of excellence for the industry. Shango offers an extensive range of premium cannabis products, including flower, concentrates, TGA Genetics seeds and cannabis-infused specialties, as well as premium Bud Run Vape cartridges and accessories.
Moshberger has already laid plans to position Shango as a business that is active and supportive of her community, especially Molalla's emergency services including fire and police departments. She also plans to purchase goods and services for Shango Molalla from local suppliers and vendors.
"As a devoted resident of this city, I will be a huge supporter of the brave men and women in uniform who work every day to keep Molalla safe," said Moshberger. "I also plan to use local businesses as much as possible for our operational needs. Shango will be a Molalla local, inside and out, from top to bottom."
Shango's products are carefully cultivated, processed and packaged for utmost quality. The trademark Private Reserve collection, available only in Shango stores, is an unparalled cannabis product and represents the ultimate state of the grower's art.
A member of the Molalla Chamber of Commerce and the Portland Business Alliance, Mayor Rogge, Moshberger and Rexroad were joined by family, friends, colleagues and customers for the ceremonial ribbon-cutting and VIP event.
For more information about Shango Molalla, please visit www.goshango.com, Follow us on Instagram Instagram.com/goshangocannabis and Twitter @ShangoCannabis and Like us on Facebook Facebook.com/goshango and MassRoots at Massroots.com/Shango.
About Shango (GoShango.com)
Based in Portland, Oregon, Shango is a premium cannabis brand offering a full range of award-winning cannabis products including flowers, concentrates and cannabis-infused specialties. Prepared for prominence as an industry leader in premium cannabis, Shango upholds the utmost levels of product quality and consistency, and business practices and cannabis industry standards. Shango is a member of the Portland Business Alliance and a committed advocate for education on the safe and responsible use of cannabis products.
###
Press Contact:
Virginia Martino
702.257.2345