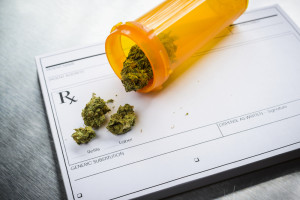 In order to get a medical marijuana card in Oregon, you must have a diagnosis of one of the qualifying medical conditions as approved by the state. Your doctor will need to submit paperwork on your behalf so that you can obtain the card.
Qualifying Conditions for a Medical Marijuana Card in Oregon
If you have a chronic or life-threatening medical condition, then qualifying for a medical marijuana card in Portland may help with the symptom management. Not all medical conditions allow a patient to get one of these cards. Your doctor must have diagnosed you with one or more of the conditions on the state's list in order for you to obtain a medical marijuana card.
Chronic and Severe Pain
Chronic pain and severe pain are two long-term conditions that would qualify you to receive a medical marijuana card with your doctor's diagnosis. Chronic pain may be a result of irritable bowel syndrome, arthritis, cancer, diabetic neuropathy, migraine headaches or TMJ syndrome. Other related pain conditions include viral and non-viral hepatitis, degenerative disc disease and gastroesophageal reflux disease.
Wasting Conditions and Nausea
Wasting conditions such as anorexia nervosa, HIV, AIDS, and cachexia are all qualifying conditions for your doctor to prescribe medical marijuana and place a request for you to receive a medical marijuana card. Long-term medical conditions that cause extended periods of nausea, such as cancer, chemotherapy and radiation treatments may also qualify you to legally use medical marijuana.
Neurological and Muscular Conditions
If you have a chronic neurological condition or degenerative muscle, nerve or brain disorder, you may be able to receive a medical marijuana card. Some of the related medical conditions that involve the neurological and muscle systems include agitation caused by Alzheimer's disease, seizures caused by epilepsy and muscle spasm disorders. You might also qualify for the card if your doctor has diagnosed you with Post Traumatic Stress Disorder, fibromyalgia or glaucoma. Your doctor might decide to complete forms stating what your condition is so that you can apply for the card.