As the use of medical and recreational marijuana continues to rise across the globe, some customers desire something that offers a unique spin on the product. And, cannabis couture products are fulfilling that customer request through luxury packaging, couture accessories, and more.
If you're willing to spend the extra dollar, or extra couple hundred of dollars, then the world of luxury marijuana can offer you products fit for royalty.
What is cannabis couture?
Naturally, as the cannabis market becomes more widespread, noticeable trends will follow. First came, marijuana beauty products and now we're entering into the world of luxury cannabis items.
As it turns out, there is a unique but growing crowd of upscale cannabis consumers. They desire specific items that bring the utmost opulence to their cannabis experience. A study by Miners & Co. Studio found that of those consumers, 84 percent hold full-time employment and 65 percent of those have a household income of $75,000 or more. And, these are the cannabis customers who would be willing to spend almost $3,000 for a joint and hundreds for a luxury subscription box.
From handcrafted products to 24-carat gold rolling papers, these products appeal to the most luxurious market.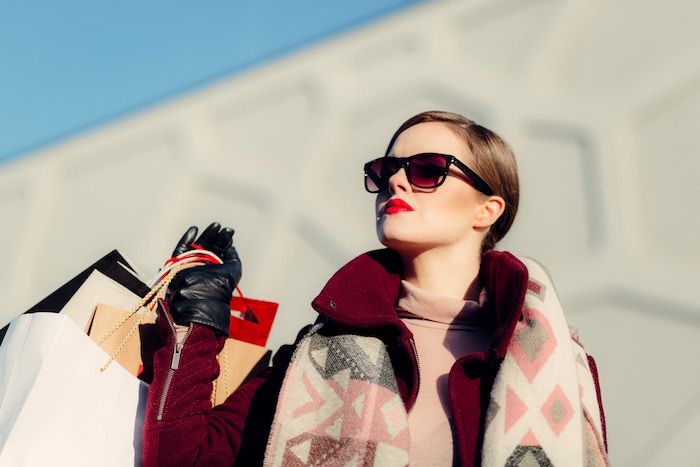 4 Popular Luxury Products
When you think of marijuana products, the first thing that comes to mind may be something similar to pre-rolled joints, vaporizers, and a variety of edibles. But – luxury cannabis takes it to the next level with these popular products:
High-End Clothing
Recently, marijuana companies have started teaming up with high-end fashion designers to create a line of luxurious clothing. The collaboration has resulted in a variety of cannabis-themed clothing that was recently featured in NYC Fashion Week.But, the luxury doesn't even stop there! The clothing is even created using fibers from the hemp plant. These fibers are durable, comfortable, and far more luxurious than your standard cotton fibers.
Chic Lighter Necklace
Customers are always looking for clever ways to keep up with their lighter, so, of course, luxury customers are taking this to the next level. An LA-based jewelry designer, Sweet Leaf collection, has designed a chic lighter pouch with a gold marijuana emblem on the front. Keep up with your lighter in style!
Rose Gold Pipe
Aside from representing the industry through their clothing, luxury marijuana customers also desire their practical items to be in a more luxurious form. The 24-carat gold and copper pipe from Greenshore is handcrafted, virtually unbreakable, and easy to clean.
Luxury Subscription Boxes
Coming in at around $150 per month (for a one-month trial), luxury subscription boxes such as AuBoxes or VerSteeg boxes are the gold standard for the luxury market. With products like THC-infused handcrafted marshmallows and cannabis-infused body butter, these are designed to offer customers a taste of every luxury cannabis product they could desire.  Coming soon, are subscriptions boxes that are even tailored towards your favourite pooch with pet themed subscription boxes.
All in All
The marijuana industry has developed far beyond traditional use and traditional products. As a whole, the industry is now looking to improve customer experience and provide products tailored to everyone's needs – even those with the highest of expectations.
So, if you find yourself intrigued by the leaps and bounds the cannabis industry is making with cannabis couture, sign up for our newsletter to stay up to date or visit one of our marijuana stores and dispensaries to find the perfect assortment of cannabis  products for you.